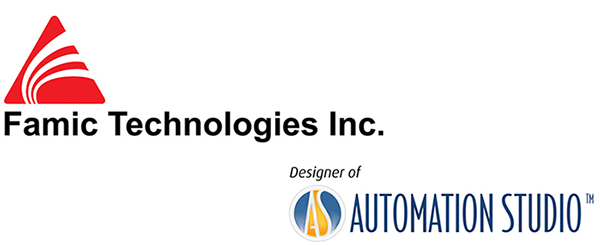 Company Description
Introduction
For over 30 years, Famic Technologies has been developing and promoting innovative software solutions. Automation Studio™ is the flagship product of the company and is currently used in over 100 countries.
Automation Studio™ has proven its strength in technical and engineering educational institutions. It helps teachers explain concepts easily to students so they have a better understanding of the behaviour and interaction of technologies with an intuitive visual learning approach before moving on to the hands-on experience. Originally meant for education, Automation Studio™ is also used throughout the industry in system design, engineering, maintenance, service and training.
Our Products and Services
All-in-One Intuitive Software to Create, Simulate, Animate and Troubleshoot, Hydraulic, Pneumatic, Electrical and PLC Circuits!
Automation Studio™ is the unique fluid power and automation technologies software solution to teach and learn in a fun and effective way! It allows you to easily create or reproduce assignments and learning material, adapting it to your teaching curriculum.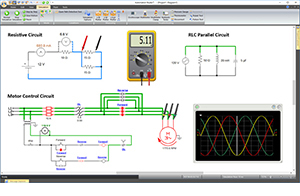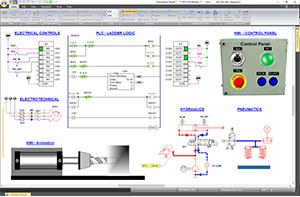 Remote access capabilities for E-learning
Libraries of thousands of ready-to-simulate symbols sorted by technologies
Create libraries containing only the required components to specific exercises
Train with ready-to-use components from Manufacturers' Catalogues
Improve blueprint reading skills by working with international standards including ISO, IEC, NEMA, SAE, JIC, etc.
Virtual systems: conveyor, traffic lights, elevator, car wash, pick & place, etc.
Make your circuits come to life with simulation
Create digital twins of your hardware equipment
Measuring instruments such as: multimeter, clamp-meter, oscilloscope, hydraulic tester, thermometer and more
Plot simulated parameters to monitor and visualize system's
behaviour
Create or activate pre-defined failures to develop troubleshooting
skills
Connect to your PLCs and I/O modules using OPC Client/Server standard, CANbus standard or Famic interface card
Contact Details
Famic Technologies Inc.
350-9999 Cavendish
Montreal
Canada
H4M 2X5