Jonathan Gill, NFEC's Chair

Be an NFEC Centre Member!
All individuals in your organisation are members by default. If you deliver learning in engineering in an NFEC Member Centre you can get all the benefits of this website.
Click below to check whether your email domain is valid - if it is, you can register now!
Latest news THE NATIONAL CONFERENCE IS BOOKED
2019 National Conference
Thursday 5th to Friday 6th December, at Autodesk, Small Heath Business Park, Birmingham B10 0HJ

Presentation slides available on the Conferences tab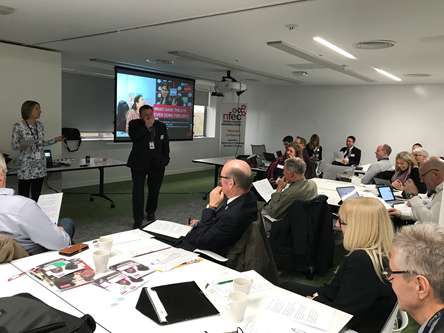 Notification of the withdrawal of apprenticeship frameworks
You will be aware that as part of apprenticeship reforms, there have been no new SASE frameworks developed or issued since 31 August 2014 and that new apprenticeship standards have been, and continue to be, developed by groups of employers.

We have been notified by the Education and Skills Funding Agency (ESFA) that they will cease funding for new starts on all remaining live frameworks on 31 July 2020. This means there will be no new starts on apprenticeship frameworks from 1 August 2020. A list of these apprenticeships frameworks can be found here.

You can find a list of the apprenticeship standards which are currently available here and you can see which apprenticeship standards contain EAL qualifications here.

The Federation for Industry Sector Skills & Standards (FISSS) will update the end date of the withdrawn frameworks on the Apprenticeship Certificate England (ACE) and, on the agreed withdrawal date, will archive the frameworks on Apprenticeship Frameworks Online.

If you have any queries regarding this information please contact our Customer Experience team on 01923 652 400 who will be able to support you.
THIS IS ENGINEERING

The Royal Academy of Engineering has launched This is Engineering, an unparalleled multi-year perception change campaign that seeks to rebrand engineering for young people, and their influencers, to encourage them to take up careers in engineering.
This is Engineering targets 13-18-year-olds. It is a digital campaign, for a digital generation with a digital future. The campaign will challenge young people to consider what engineering means in the 21st century, presenting it as a dynamic, exciting and varied career with huge opportunities to make a difference to society and how we live.
You can see the films at www.thisisengineering.org.uk and on YouTube, and we encourage you to share them widely across your social media networks. You are also welcome to embed the films on your own webpages, using the YouTube embed links.
This campaign is being led by the Academy, in collaboration with EngineeringUK and industry partners, but has been developed for the whole profession. It is a key part of our collective contribution to the government's 2018 Year of Engineering.
Attached is a quick guide to how you can support the launch, which we hope you find helpful and interesting. To join in on social media, please follow us @ThisIsEng, and #ThisIsEngineering. Some suggested tweets can be found in the attached.
To find out more or for an offline copy of any of the films, please get in touch via contact@thisisengineering.org.uk or simply visit the This is Engineering website.
Our website is updated on a regular basis with the latest information being received by NFEC from relevant organisations. Most of the information is held within our members pages and anyone in an organisation that has joined NFEC should register. Use the link above to check whether your organisation is a member and create your own unique username and password. Once registered they will be added to our mailing list to receive forum updates and other news relevant to engineering education training
And what about your news?
We want to hear from you - Have you got some good news to share? Did your engineering department get a grade 1 from OFSTED?
NFEC is all about helping each other and sharing good practice. Please send any news to Jill Mustard at jill@nfec.org.uk
NFEC 2020 Seminars
Dates of the next Regional Meetings
Midlands regional seminar, Friday 27th March 2020, venue Walsall College
For more information and meeting notes go to our Regions page
Privacy Notice
NFEC is an institutional membership organisation, it is a Company Limited by Guarantee: Registered in England and is a Registered Charity; its members are education and training organisations, resource providers and companies which are involved in the provision of direct teaching, experiential learning and qualification of young people and adults. Membership is open to any organisation involved in training, education and qualification in the area of STEM (Science, Technology, Engineering and Mathematics); including educational establishments, private providers, employers and employer representative bodies.
NFEC has a very small number of individual members, primarily these are people interested in or working with NFEC who are not currently employed by a member organisation.
NFEC's purpose is to provide, support and facilitate information flow for and on behalf of its member organisations. NFEC acts as a representative body for its member organisations offering influence, feedback and guidance between a range of organisations and working parties that are engaged in related research, strategic planning and implementation of change and developments affecting technical and scientific education.
NFEC is not a trading company, as a charity it does not seek to raise "funds". It does not publish, release or otherwise provide member information to any other organisation or individual.
The information that NFEC records on any member organisation is no more than the member would publish on their own website.
NFEC retains on file the names of member organisations together with contact information that includes the name of member nominated contact people together with telephone numbers and e-mail addresses. NFEC seeks to update such information annually.
Periodically NFEC conducts surveys of members, involvement of which is voluntary; the results of which is analysed statistically and used to assess and/or inform opinion and/or responses from members on a range of topics, developments, proposals etc. Specific references to member provided data are not included without the members express permission.
For administration purposes NFEC holds names and organisation information of participants in current and immediately passed network activities and events.
Issues relating to privacy and security of information should be addressed to the NFEC Company Secretary.
(updated 25th May 2018)