NFEC Seminars 2021
Since June 2020 NFEC has operated a programme of online seminars; adopting the title of "Where do we go from here"

The series was prompted by the changes being brought on by the resurgence of the Covid 19 Pandemic, taking account of Lockdowns, Social Distancing and Limiting Contact during Teaching, Assessment and in the Workplace - whilst recognising the importance of maintaining a sound education system. Focusing on Science, Engineering and Technology education at intermediate and higher levels. The series will engage regulators, administrators, practitioners, influencers and others in considering the impact of changing expectations, systems and practices that relate to what we earlier called the "New Normal".
The seminars set out to share what we collectively have learned and what further developments will be required; are there likely to be changes to the standards that we apply or at least the way that we will be required to apply them?
The series of National Seminars will seek to build on the experiences of all involved in the process and will explore the challenges that we now face, irrespective of how long this "crisis" lasts.
Seminar topics have now embraced other aspects of change that are rapidly approaching and have undertaken a detailed look at T Level Developments which are now under continual review. The recent White Paper and other potential changes will undergo similar review at future seminars.
Future 2021 dates include: 26th March; 23rd April; 21st May & 18th or 28th June.
The NFEC 2020 AGM was postponed from the cancelled December Annual Conference and will now be held via ZOOM on 19th March 2021.
We are working on the timetable for these events, these will be billed as National and Regional events. The National events will feature key speakers and discussion on specific topics. The Regional events are intended to facilitate wider discussion on issues of immediate importance to members.
The details of events will be published here, please watch for news as the programme is developed.
Please contact us on seminars@nfec.org.uk, if there are particular topics that you would like to see being included, or if you have contributions that you can make.
Latest News
Notification of a free CPD event for teaching staff being provided by The Education Training Foundation in conjunction with WorldSkills UK
13th October 2021
Developing excellence in teaching and training, hosted in partnership with the Education and Training Foundation (ETF), is an interactive online CPD (continuing professional development) event to help educators in the skills sector develop their teaching capabilities.
Taking place on Wednesday 24 - Thursday 25 November 2021, this online training event will give attendees the opportunity to learn from WorldSkills UK's insights into international best practice as well as the very best industry expertise through practical workshops and discussions.
The event is free to join, by registering on the WorldSkills UK website
Workshops and sessions will cover four key areas:

Equity, diversity and inclusion
WorldSkills UK way: the art of teaching and training
Live technical masterclasses
Education 4.0
---
23th September 2021
The current government review of post 16 qualifications will have significant impact on students, providers and businesses in the future. Many in our sector have real concerns over how this will affect immediate and future career choices, in particular what will be available for career progression and choices for more mature workers planning to retrain or extend their qualification base for future job opportunities.
In this fast moving, ever changing world where we must all expect multiple jobs and very diverse roles will these proposals help or hinder future development routes.
Some of this will be discussed during the September 2021 NFEC Seminar.
The documents referenced below were released in July and will be relevant to this month's discussions:
The following links set out the Government's / Department for Education policy statement setting out changes to level 3 qualifications following the review of post-16 qualifications at level 3 and below in England.
It summarises the groups of qualifications that will be approved for funding alongside A levels and T Levels. It also sets out how the Department expect students to progress and how the new range of qualifications will support all students to fulfil their potential.
https://www.gov.uk/government/publications/review-of-post-16-qualifications-at-level-3-in-england
https://www.gov.uk/government/publications/post-16-qualifications-at-level-3-guidance-for-providers
---
From the T Levels Team:
28th May 2021
We are delighted to announce that employers will be able to claim £1000 for every T Level student they host on a high-quality industry placement, as part of a new incentive scheme https://www.gov.uk/government/news/cash-boost-for-t-levels.
The T Level employer incentive fund, launched today, recognises the impact of the pandemic on many businesses, and has been designed to help cover financial constraints employers may face as a barrier to hosting placements in the short term.
Employers will be able to claim £1000 for up to 20 students they host on a 45 day (315 hour) industry placement, from now until July 2022. The incentive offers businesses an excellent opportunity to tap into the emerging talent pipeline, whilst supporting the skilled workforce of the future.
Those interested in accessing the incentive payments and offering T Level industry placements should contact: 08000 150 600 (choose option 4) or fill out an industry placement contact form online: Next steps | T Levels
As a T Level panel member we appreciate your support to share news of the new incentive payment with your networks.
Please do share today's news, linking to the news story on GOV.UK https://www.gov.uk/government/news/cash-boost-for-t-levels and liking and sharing our post on T Levels LinkedIn.
We are also pleased to share our new Employer Guide to help businesses understand how to host an industry placement. This includes details on what is expected of employers during the placement. Please do share this with your networks too.
Also announced, a procurement exercise, of up to £350,000, for an Employer Support Package, will taking place in the summer, for an organisation to offer employers T Levels support. Such support will include delivering webinars, and support sessions across England.
T Levels Team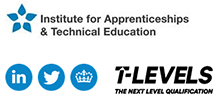 ---
NFEC have been advised of two key announcements relating to T Level Qualifications
You may have already seen or heard about this, but see below for details of a capital funding release for T level introduction - not that £135m (especially as it might only be a proportion of this, as Accounting, Finance and Management and Administration are also due for the 2022 rollout) will go far across the engineering and manufacturing providers who might apply.
The next NFEC Seminar with touch on changes to the Action Plan. The following NFEC Seminar in March will discuss the Work Placement element of T Levels.
Posted by NFEC 15th January 2021 on behalf of: Susan Chambers, T Level Delivery Division
Subject:T Levels capital funding for providers
Dear colleagues
I wanted to draw your attention to a couple of recent announcements (DfE press notice). We have today launched a £135 million T Levels capital fund to help providers delivering T Levels in September 2022 to fund the building/facilities works and equipment needed to deliver the new qualifications. The closing date for the submission of bids is 26th March 2021. Further details on the fund including, the published guidance, application form and other information on the fund.
We have also announced the approval of £48.5m worth of projects as part of wave 2 capital funding, for providers delivering T Levels from September this year.
In addition, we have published the fourth in our series of annual T Level Action Plans. The 2020 T Level Action Plan provides information on the delivery of the first three T Levels in September 2020, and on our continued work with a range of delivery partners towards the full rollout of T Levels. The main points include:
The launch of the first three T Levels, including early recruitment information
Eligibility criteria and how to register for T Level delivery in 2023 and beyond
Updates on the rollout of T Level routes and pathways
Support packages available to T Level Providers; and
Progress with the Level 3 Qualifications Review and Higher Technical Qualifications
Many thanks and do let me know if you've any questions.
Susan Chambers
T Level Delivery Division | Level 5, 2 St Paul's Place | 125 Norfolk Street | Sheffield S1 2FJ | Tel: 07384 809 380


---
From the ESFA:
We have published The Apprenticeship Programme response to COVID-19. Minister Keegan wrote to the non-college FE sector to share the link to our new guidance, as well as other support we are providing to FE.
Our guidance provides information on:
applying the policy on breaks in learning;
delays to end-point assessment (EPA); and
alternative arrangements for EPA and external quality assurance.
And set out details of the specific support we are providing, which includes:
Encouraging training providers to deliver training to apprentices remotely and via e-learning as far as is practicable.
Allowing the modification of end-point assessment arrangements, including remote assessments wherever practicable and possible.
Clarifying that apprentices ready for assessment but who cannot be assessed due to COVID-19 issues can have their End-point assessment rescheduled. Apprentices whose gateway is delayed can have an extension to the assessment timeframe.
Enabling employers and training providers to report and initiate a break in learning where the interruption to learning due to COVID-19 is greater than four weeks.
Clarification on how to record breaks in learning so that funding is not unnecessarily disrupted.
Confirming that where apprentices are made redundant, it is our ambition to find them alternative employment and continue their apprenticeship as quickly as possible and within 12 weeks.
The Institute for Apprenticeships and Technical Education has also published new guidance on the delivery of assessment at https://www.instituteforapprenticeships.org/response-to-covid-19/
NFEC Free Seminars
Friday 25th Sept 2021
Bryony Leonard from Pearson covers the developments with BTECs, including their fit with the Government Skills Strategy.
Find out more and watch the video
Annual Conference
The 2020 National Conference was cancelled due to Covid 19. Consideration for a 2021 Conference will be made later in the year. Seminars will continue throughout 2021.
Business Members Products
NFEC values the support of its Business Members whose product displays and technical presentations are a key resource for Provider Members.
View these pages to see some of the latest product developments, equipment, services and information. The links in the Business Members section connect with company websites, product catalogues and presentations.
View and support NFEC's Business Members
NFEC Events
The current unprecedented global and UK situation calls for all of us to make the best judgements we can in the light of the official guidance we are receiving. Therefore reluctantly, the Board of Directors, have decided to cancel all future NFEC events planned for the next few months, until further notice and hopefully an improving situation emerges.
For more information and meeting notes go to our Regions page
Membership Fees
Due to the current situation the previously planned increase in membership fees has been cancelled.
NFEC membership fees are held at Institutional / Corporate / Company Membership: £460.00
Individual Professional: £100.00
Jonathan Gill, NFEC's Chair

Jon Gill, NFEC Chair
A message from the Chair
And what about your news?
We want to hear from you - Have you got some good news to share? Did your engineering department get a grade 1 from OFSTED?
NFEC is all about helping each other and sharing good practice. Please send any news to Jill Mustard at jill@nfec.org.uk